Ahhh, the long awaited FALAFEL post!!! Right???
<Ok, interrupt regularly scheduled programming as I go off on a personal tangent.>
Yes, life has been a little more than busy! This summer has been so much fun, but kept us going from one activity to another (swimming lessons, football, youth groups, appointments, family stuff, vacation, etc etc)! Probably our busiest summer yet! And although it wasn't as relaxing as past summers have been, so many fun, lasting memories were made and we got a lot accomplished!!! So no complaints here! :) How was your summer?
And I do have to confess – I missed my blogging!!! I love chatting and sharing with you beautiful blog readers!! So I'm very happy to announce – that I'm most definitely BACK~~!!!!
Now that the kids are back in school, and we're settling back into that familiar routine. I'm catching up with my house, baking, couponing etc. And its a great feeling! Fall is such a fun and beautiful season – with the deep, rich makeup colors, trendy sweaters paired with high-heeled boots, crisp, cool sunny days with colorful leaves falling, hot cocoa, pumpkin patches….Ahhhh….I'm getting excited just thinking about it!
I've even done some Christmas Shopping – dare I say!! I also love making Christmas Gifts, so that is also on my radar right now. I often try to make gifts that incorporate family pictures and digital and traditional scrapbooking into them, basically Digital Scrapbooking Hybrid projects~!!! In the past I've made brag books out of badge card holders, coasters out of ceramic tiles, digital scrapbooks etc.  Its a wonderful way to preserve memories, while also giving those "made with love" personal gifts~!!! Do you make gifts??? If so, I'd love to hear what kinds of things you do!!!
<Now back to your regularly scheduled programming>
Great Balls of Falafel
Have you ever had Falafel before? If not, you are missing out!! They are these little balls of yumminess!!! But more precisely, they are made up of ground chickpeas, coupled with amazing spices, then deep fried (or baked). Once cooked, they are put inside a pita alongside condiments such as hummus, tzatziki, feta cheese, onions, pickles, tomatoes and (if you like spice) jalapenos!!! They are a Middle-Eastern delicacy and one we grew up with and adore!!!
Even if you aren't vegetarian – this is still something you'd love!!! The "meat-eaters" in my house (aka Hubby and sons), love my homemade Falafel!!! Its super hearty and very flavorful, so you don't miss the meat!!! But I will say, the men in my house aren't fond of the store bought Falafel mixes. But they adore this homemade recipe! So if you've tried the store bought version, and think you don't like it. Well, I dare you to try this recipe! You might just change your mind!
Let's Make Some Falafel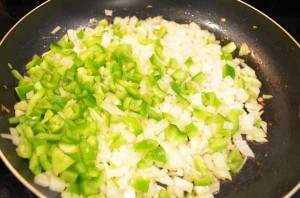 1.  First saute the onions and peppers in a medium skillet over medium heat. Once translucent add the garlic and saute another 3-5 minutes. (I'll preface this by saying, the amounts you'll see pictured are actually double what the recipe calls for. Since we had company over, I doubled the recipe. So if you see less in your frying pan/food processor, that's why.)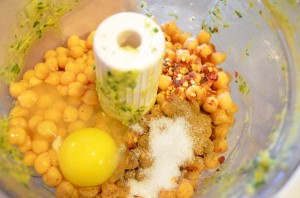 2.  While you're sauteeing the onions and peppers; in a food processor, pulse together chick peas, chili flakes, cumin, egg, salt and pepper. Forming a coarse mixture.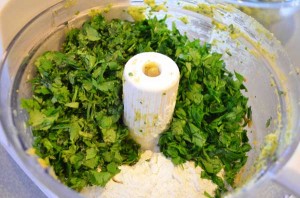 3.   Next add the flour, parsley, and cilantro. Pulse until mixture starts pulling from the sides of the food processor. I first saw recipe on Guy Fieri's Big Bite, and after making this several times I've found it needs more flour than what the recipe calls for. It calls for 5 tbsp, but I found it could use up to 1/2 cup. This is vital because if the mixture remains too wet, when you drop it into the oil, it'll just fall apart and won't hold together. Although I recommend not adding extra flour until the last step, so you can see just how wet/dry the mixture is before making any necessary adjustments. At this step, just add the 5 tbsp of flour the recipe call for.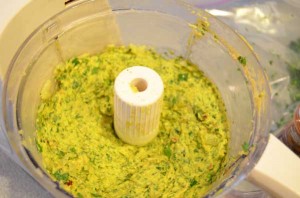 4. Once it's all pulsed together, take the mixture out of the food processor and add the sauteed onion/pepper/garlic mixture to it.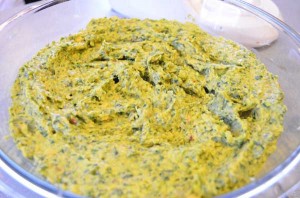 5. This is what the mixture should look like once its fully incorporated. Chill this mixture until you are ready to cook it.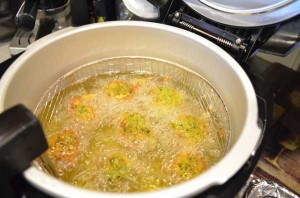 6.  Once you are ready to fry them. Roll the falafel into 1 inch balls, keeping them similar in size. You can use a deep fryer, or a deep skillet at 350 degrees. And before you put several into the fryer, drop 1 ball into the oil to not only test the heat but also to make sure it holds together. If at this point, the mixture is still too moist, and falling apart during the frying, add more flour until you reach the desired consistency and it holds together well.
7. Don't crowd the fryer, or you'll drop the temperature of the oil too much. Only do around 5-8 balls at a time, depending on the size of your skillet/fryer. Cook for approximately 5 minutes at a time, until they become golden brown. Once cooked, remove to a paper-towel lined, oven-safe platter and sprinkle with salt. You might want to put them in the oven (with the oven set to warm), to keep them all nice and hot, until all of the falafel are fully cooked.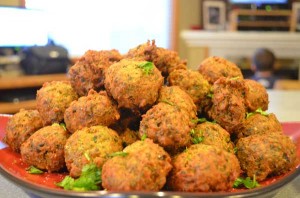 8. And here they are!!! Goodness, Gracious, Great Balls of FALAFEL~!!!!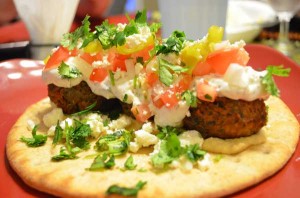 9. Now when you are ready to serve them, put around 2-3 balls on a pita. Along with any and/or all of the condiments: Hummus, Tzatziki, Feta Cheese, Tomatoes, Pickles, Pepperoncini, Cilantro and/or Jalapenos. Pictured above, I've added a bed of hummus, 3 falafel, tzatziki, feta cheese, tomatoes, onion, pepperoncini and cilantro. That's my magic combo, but you can alter it to suit your tastes!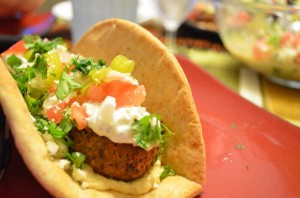 10. Now doesn't that look delicious??? All ready to eat!!! Now this is MY kinda "comfort food"!!! And served alongside a greek salad - its PERFECTION!!! If you'd like a wonderful Greek Salad to accompany this recipe, I've already posted one here. Its a good ole family recipe~!!!
| | | |
| --- | --- | --- |
| Goodness, Gracious, Great Balls of …… FALAFEL!!! (The Recipe) | | |
Author:
Ingredients
2 tablespoons canola oil, plus extra for frying
1 medium white onion, chopped
1 large green pepper pepper, chopped
5 cloves garlic, minced
2 (14-ounce) cans chick peas, drained
1 teaspoon red chili flakes
1 teaspoon ground cumin
1 egg
1 tablespoon salt
1/2 tablespoon freshly ground black pepper
5 tablespoons – 1/2 cup flour (start out with 5 tbsp, and increase if the mixture remains too moist after incorporating all ingredients)
1 cups freshly chopped parsley leaves
1 cup freshly chopped cilantro leaves
Pitas
Toppings: hummus, tzatziki, diced onion, chopped tomato, chopped cilantro, crumbled feta cheese, pepperoncini, jalapenos, pickles etc (any or all)
Instructions
In medium skillet over medium heat, add 2 tablespoons oil and sweat onion and peppers 2 to 3 minutes then garlic and cook until translucent, about 5 minutes.
In a food processor, pulse together chick peas, red chili flakes, ground cumin, the egg, salt and black pepper to form a coarse consistency. Then add flour, parsley, and cilantro. Pulse until mixture starts pulling from the sides of the food processor.
Remove mixture to a large bowl and mix in the onion mixture. Chill falafel until ready to cook.
Roll falafel dough into 1-inch rounds.
In a thick-bottomed skillet heat 1/2 inch of canola oil over medium heat to 350 degrees F. Cook falafel balls a few at a time, until golden brown, about 5 minutes. Be sure to turn them so they do not burn or stick to the bottom of the pan. Drain on a paper-towel lined, oven-proof platter and sprinkle with salt while still hot. Then put into a warmed oven, to keep warm until all falafel are cooked.
Open the pita bread to make pockets. Place 3 to 4 falafels inside. Stuff with hummus, tzatziki, feta cheese, onions, cilantro, tomatoes and pepperoncini. Serve immediately.
Have you ever made Falafel??? If you have any tips/tricks/recipes to share, I'd love to hear them!!! I hope this inspires you to make some wonderful, different, ethnic food!!! Its easy and FUN!!! And the flavor pay-off is amazing~!!! And don't hesistate to double the recipe, and freeze half. These freeze wonderfully for an easy weeknight meal later on~!!!
Hope you are all transitioning into the back to school routine seamlessly~!!! Thanks for sticking with me, and for all of your feedback!! I very much value it!! <3
Until next time Chicklets, change up your dinnertime routine by keeping those meals different, ethnic and always homemade~!!! And I very much do encourage you to play with your food!! You'll never know what amazing cuisine you can create, if you don't~!!! HUGS and LOTSA LOVE!!!  xoxo